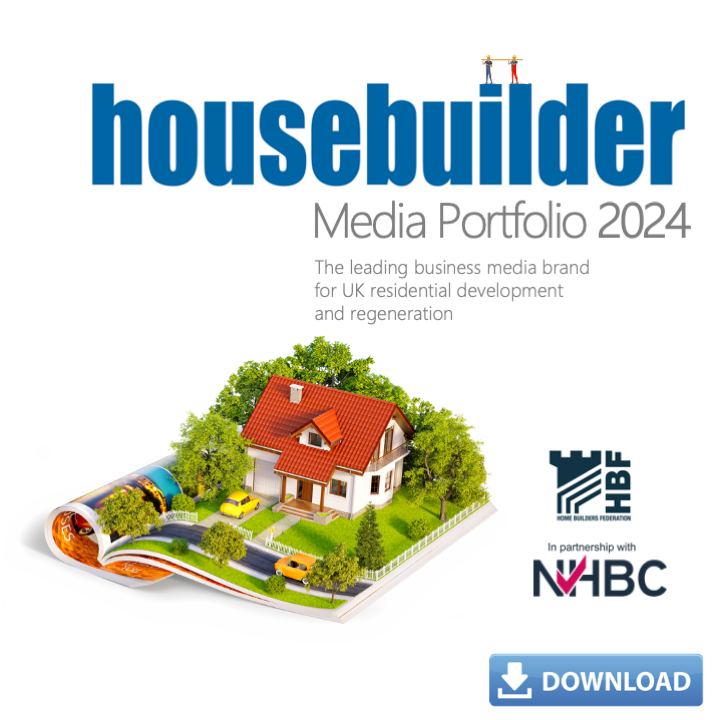 Housebuilder magazine 2024 advertising rates
Rates effective from January 2024 - please contact us for special rate packages for series advertising.
Agency commission 10% - all rates quoted are for 4 colour advertisements.
Double page spread £5,090
Full page &pound2,950
Half page (landscape or vertical) £1,950
Quarter page £1,180
Inside Front Cover, Outside Back Cover and Inside Back Cover £3,250
Quotes for special sizes are available on request. To guarantee a specific position, or facing editorial, add 10% to the above. Loose and bound-in insert options are also available on request.
Advertising copy date is 15th of the month preceding publication. Please contact Helen Board for mechanical data and advertisement specification, email helen.board@house-builder.co.uk or telephone 020 7960 1634.
2024 Product features list & Publishing dates
| Issue | Features 2024 |
| --- | --- |
| FEB (7th Feb) | Indoor Air Quality and Ventilation / The Utility Sector including Broadband/ Finance and Mortgage update |
| MARCH (6th Mar) | Insurance and Legal Issues / Kitchens and Bathrooms/ roofing and cladding |
| APRIL (3rd Apr) | Doors & Windows including Roof Windows / Build Methods, Techniques and Innovation/ Heating Systems |
| MAY (1st May) | Insulation/ Sustainability and Green Agenda special/ Marketing techniques and aids |
| JUNE (5th Jun) | Outdoor Space including Balconies and Garden Paving / Interior Design / SuDS and Rainwater Systems |
| JULY (3rd Jul) | (Two month shelf-life) – BIM and Construction Software / Flooring and Walling Systems / PropTech |
| SEPT (4th Sep) | Finance and Mortgage update / Roofing, Cladding and exterior aesthetics / The Utility Sector including Broadband |
| OCT (2nd Oct) | Build Methods including Brick and Block, Timber Frame, Off Site and Modular / The Smart Home including Technology, Communication and Automation Systems/ Indoor Air Quality and Ventilation |
| NOV (6st Nov) | The Hidden Protectors including Lintels, DPCs, Membranes and Cavity Trays / Kitchens and Bathrooms/ Sustainability and Green Agenda special |
| DEC (4th Dec) | (Two month edition) – Home Security including Windows, Doors, Garage Doors and Alarms/ Environmental Remediation, Groundworks and Below Ground Drainage. |
Mechanical specification for housebuilder magazine
DOUBLE PAGE SPREAD (DPS)
Type size 270mm x 400mm
Bleed 303mm x 432mm
Trim 297mm x 420mm
Bleed across gutter only 270mm x 406mm
HALF PAGE Landscape
Type size 125mm x 190mm
Bleed 149mm x 216mm
Trim 146mm x 210mm
HALF PAGE DPS
Type size 125mm x 400mm
Bleed 149mm x 432mm
Trim 146mm x 420mm
Bleed across gutter only 125mm x 406mm
HALF PAGE Vertical
Type size 270mm x 92mm
Bleed 303mm x 103mm
Trim 297mm x 100mm
FULL PAGE
Type size 270mm x 190mm
Bleed 303mm x 216mm
Trim 297mm x 210mm
QUARTER PAGE Portrait
130mm x 92mm
QUARTER PAGE Horizontal Strip
63mm x 190mm