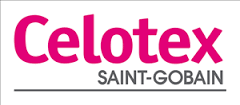 Celotex provides solutions for specific applications for the building and construction industry. 
With a history of continual product innovation, technical progression and an unrivalled product and service package spanning 90 years, Celotex remain the insulation specialist of choice.
As the fastest growing insulation category within the UK, PIR (polyisocyanurate) insulation provides the perfect solution for meeting both current and future building regulations and other carbon reduction programmes. PIR insulation delivers high thermal performance allowing homes and buildings to achieve premium levels of energy efficiency and with some of the thinnest possible solutions.