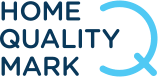 THE SIGN OF A BETTER HOME
The Home Quality Mark (HQM) has been created to serve the UK's house builders and the householders who buy and rent new homes.
HQM will help house builders to demonstrate the high quality of their homes and to differentiate them in the marketplace. At the same time, it will give householders the confidence that the new homes they are choosing to buy or rent are well designed and built, and cost effective to run.  
The Home Quality Mark will do this by providing impartial information from independent experts on a new home's quality. It clearly indicates to householders the overall expected costs, health and wellbeing benefits, and environmental footprint associated with living in the home. In short, HQM helps everyone to fully understand the quality, performance and attributes of a new-build home.
Developed by BRE, the UK's leading building science centre, the Home Quality Mark is based on years of building standards experience, and is part of the successful BREEAM family of quality and sustainability standards.