NOW OPEN FOR ENTRIES - ENTRY DEADLINE EXTENDED 19 MAY
The Housebuilder Awards 2021 are now open for entries. Entry is free
All entries are to be received electronically and emailed to events@house-builder.co.uk by Wednesday 19th May
Please call 020 7960 1630 with any queries
HOUSEBUILDER AWARDS 2021 CATEGORIES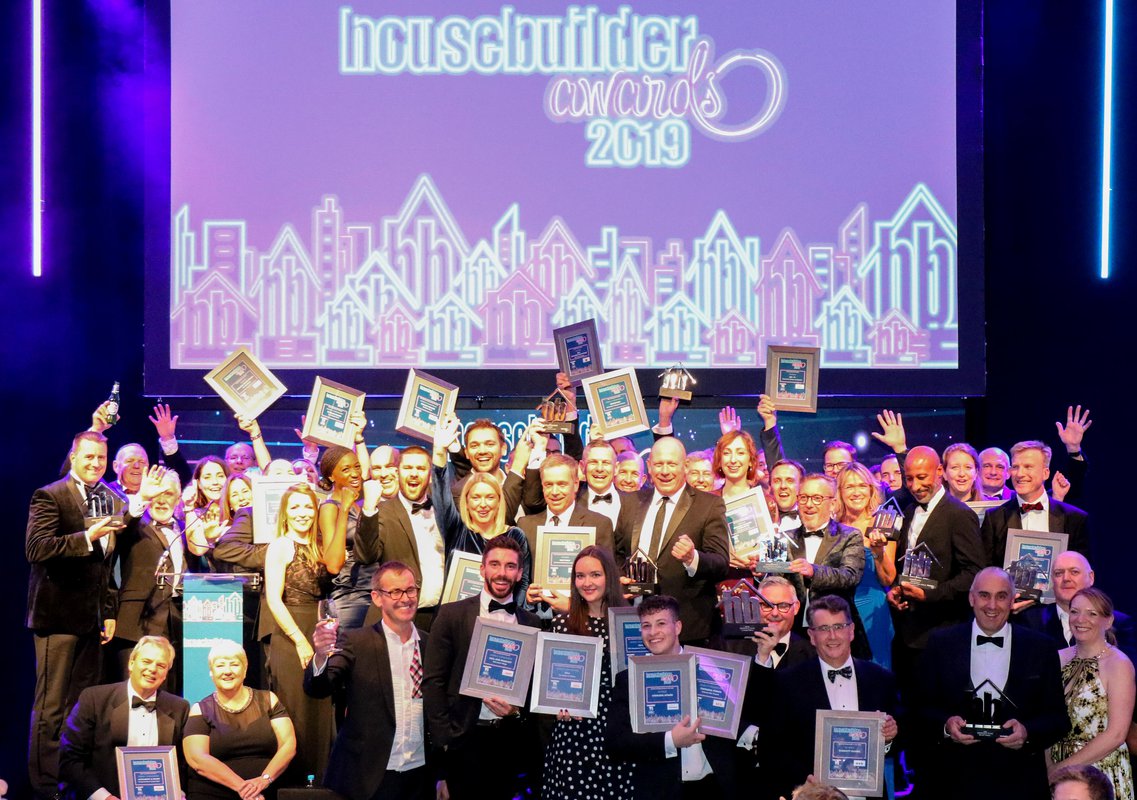 Housebuilder Award Winners 2019  - AWARDS NIGHT
The Housebuilder Awards 2021 will be held at a prestigious black tie evening event on Wednesday 24th November at the InterContinental London - The O2.
*please note that we are closely following the Government's Roadmap and hoping and planning for a fantastic physical event, all details will be updated as plans are confirmed. 
ENTRY REQUIREMENTS
Your entry must include the following:
500 word submission on a maximum of four sides A4 size including images and third party testimonials where appropriate. 

To be sent in either a pdf or word format.

One digital high res jpeg image of the entry -

to be used in future marketing if your entry is successful.

A web browser link such as Youtube if relevant. 

Please also send us the password if it's password protected.
WHAT SHOULD THE 500 WORD SUBMISSION INCLUDE - HINTS AND TIPS FOR YOUR ENTRY
The judges want to see winning entries - it makes their lives easier. So to impress them you should: 
• Ensure your entry looks good - make the effort to submit a great entry that is fit to win a Housebuilder Award
• Play to the rules - stick to the 500 word limit, include testimonials and pictures. 
• Make sure the entry is well written - get the best writer in the office to explain why your entry should win, or have the entries created professionally by an agency
• Use images well - a pictures tells a thousand words and it is perfectly acceptable to include pictures in the main entry
• Read and meet the criteria - the criteria for each category can be found above so show the judges how your entry meets these standards
• Back up with testimonials - judges love endorsements from third parties, the best of these should be with your main entry and can be additional to your 500 words
• It may be worth briefly mentioning within the main entry what support material is available.  If supplying a video link we recommend keeping the video to under 5 minutes
• Avoid submitting entries that are rehashed press releases or are clearly not bespoke entries to The Housebuilder Awards.
IMPORTANT INFORMATION
Entries are open to developers, associated companies and contractors, where appropriate.
Entrants should show evidence of innovation and improvement over the past 18 months and developments/initiatives do not necessarily have to be completed, but entry must state what stage it is at.
Copyright approval must be obtained for all Material submitted.
Multiple entries can be submitted in all categories. Please complete one form per entry.
Winners may advertise their success stating the year in which they won
JUDGING
Following the entry deadline of Wednesday 19 May, a panel of expert judges from the housebuilding industry will meet to assess all entries and select the best from each category.
The finalists will be announced in Summer 2021.
The judge's decision is final and no correspondence will be entered into
Housebuilder Awards 2021 Judges
David Birkbeck, CEO - Design for Homes
Ian Bott, Associate Director - PRP
David Bryant, Chairman - HBF Small Developers Group 
Mark Gibney, Head of London Planning - Avison Young
Grainne Gilmore, Head of Research - Zoopla
Jenny Herdman, Director - Home Building Skills Partnership 
Richard Jones, Head of Residential - Arcadis
Guy Lambert, Head of Marketing and Communications - NHBC
Iain Painting, Partner - Barton Willmore
Keira Proctor, MD - A Proctor Group
Ben Roskrow, Publishing Director - Housebuilder Media
John Slaughter, Director of External Affairs - HBF